It's been 26 years since one of CAPCOM's  most iconic game characters, Mega Man, was introduced to the industry, and this has expanded enormously worldwide, in a wide variety of arcade, console and mobile games, comics, Western and Japanese animation, manga, movies, music albums, toys, and much more. Today, as a special tribute to the epic character we've grown to admire and love, we're going to jot down the Japanese animated adaptations of the Mega Man series that aired: from the very first to the latest.
Mega Man: Upon a Star (1993)
This was a 3-episode OVA by Ashi Productions and was presented by Japan Center for Intercultural Communications, as a way to introduce Japanese culture to its viewers. Despite being shown only for Japan initially, an English localization came out nine years later, under ADV Films. In summary, Upon a Star showed two worlds: a game world, where the Mega Man characters existed, and the real world. Dr. Wily has found a way to exit the game world and was plotting to take over the real world. Mega Man chases after him, while learning more about Japan as he did so.
Mega Man: Wish Upon a Star Opening


Mega Man NT Warrior (2002-2003)
The first Mega Man TV anime adaptation came out in 2002, and was titled MegaMan NT Warrior (also known as Rockman.EXE [ロックマンエグゼ] in Japan). The series was adapted from a manga of the same title, and produced by Xebec. It aired a total of 56 episodes in Japan. The story follows a young teenager named Lan Hikari (Japanese: Hikari Netto) and his NetNavi, Megaman/Rockman.EXE. As they travel across different places, they also fight against cyber criminals through the use of a virtual arena called Battle Network.
After a while, the entire series was licensed in the US by Viz Media, although not all episodes were translated and aired in the US and Canada. There were also a number of differences between the original and American versions. Some character and skill names were changed, and certain scenes were blurred, cut or censored; this was due to Mega Man NT Warrior being aimed to a much younger audience in the US and Canada. Due to its success with the younger generation, it was able to follow up with four additional sequels. 
Mega Man NT Warrior (Rockman EXE) First Opening Sequence


Mega Man NT Warrior Axess (2003-2004)
The last episodes of NT Warrior gave way to the introduction of Axess, the first sequel. Axess was divided into two different story arcs; the first having to do with the World Three (WWW) and Dr. Wily's quest to discover the ultimate NetNavi; the second arc revolved around the existence of a NetMafia syndicate, Grave (Gospel), a group led by Dr. Wily (again) and aimed to create a virus strong enough to destroy the whole net. This was also produced by the Japanese animation studio, Xebec, and had a total of 51 episodes, 45 of them were localized into English and licensed by Viz Media.
Mega Man NT Warrior (Rockman EXE) Axess Opening Sequence

Mega Man NT Warrior Stream (2004-2005)
The second sequel of the NT Warrior saga focuses on a whole new arc, with Duo and his subordinate, Slur as one of the main antagonists. Coming from outer space, Duo sends Slur to Earth to scatter powerful Navis to different people, as a test if humanity is as destructive as he initially thought they were, which in turn, would warrant its extinction. Dr. Regal also makes his appearance in this series, while Neo World Three springs back to action, this time, headed by Tesla Gauss (Tesla Magnets). Unfortunately, Stream was only aired in Japan, and was not licensed in USA or Canada, or any other country for that matter. The entire Stream series had a total of 51 episodes. Coincidentally, Stream was also broadcasted during Xebec's 40th year.
Mega Man NT Warrior (Rockman EXE) Stream Opening Sequence


Mega Man Battle Network Movie: Program of Light and Dark (2005)
This is the first animated movie that followed the NT Warrior storyline, although not explicitly stated, it was implied the movie happened in between episodes 22 to 29 of Stream arc. The main focus of the movie was the Spectrum, a program that deconstructs any data it comes across. Some of the appearing characters included Dr. Regal, Bass, Baryl, Colonel, and Nebula Gray. The movie was shown alongside Duel Masters: Curse of the Deathphoenix in theaters in Japan.
Mega Man Battle Network: Program of Light and Dark (Rockman EXE Hikari to Yami no Program) Trailer:


Day of Sigma (2005)
Day of Sigma is a 25-minute OVA included in the Maverick Hunter X UMD (a remake of the Mega Man X game ported for the PlayStation Portable). It serves as a prologue to the game, explaining the actions behind Sigma's rebellion as well as X's origin of powers. The OVA movie unlocks after the game is first cleared.
Day of Sigma Trailer (Fanmade)


Mega Man NT Warrior Beast (2005-2006)
The 25-episode sequel to Stream introduced a new storyline: an alternate dimension called Beyondard, the opposing Cybeasts Gregar and Falzar, a mysterious girl, Iris, and a baby NetNavi named Trill. Trill had special abilities capable of mass destruction, making him a target for mischievous individuals. When Mega Man merges with Trill, a new ability called Beast Out unleashes, making him powerful enough to take down even the strongest Cybeasts.
Mega Man NT Warrior (Rockman EXE) Beast Opening Sequence


Mega Man NT Warrior Beast+ (2006)
The final sequel for the NT Warrior saga was a series of 26 episodes, each spanning for as short as 10 minutes. The first half dealt more with the relationship between Professor and Zero, while the second half showed the returning Professor, along with a new Navi named Zero One. The latter half also showed a few elements from the mobile game Rockman EXE Phantom of Network.
Mega Man Star Force (2006-2007)
An entirely different series from NT Warrior, Mega Man Star Force is an adaptation from the video game of the same name. Its pilot episode aired two months before the game was released in Japan, and was once again produced by Xebec. The story follows the adventures of Geo Stellar and Omega-Xis, an extraterrestrial being, and a sole survivor from Planet AM. After inhabiting Geo Stellar's Transer device, giving Geo the ability to see EM Wave beings and transform into Mega Man. They battle against these rogue viruses who plot to take over and manipulate the EM Wave world. The entire series had a total of 55 episodes.
Mega Man Star Force (Ryuusei no Rockman) Opening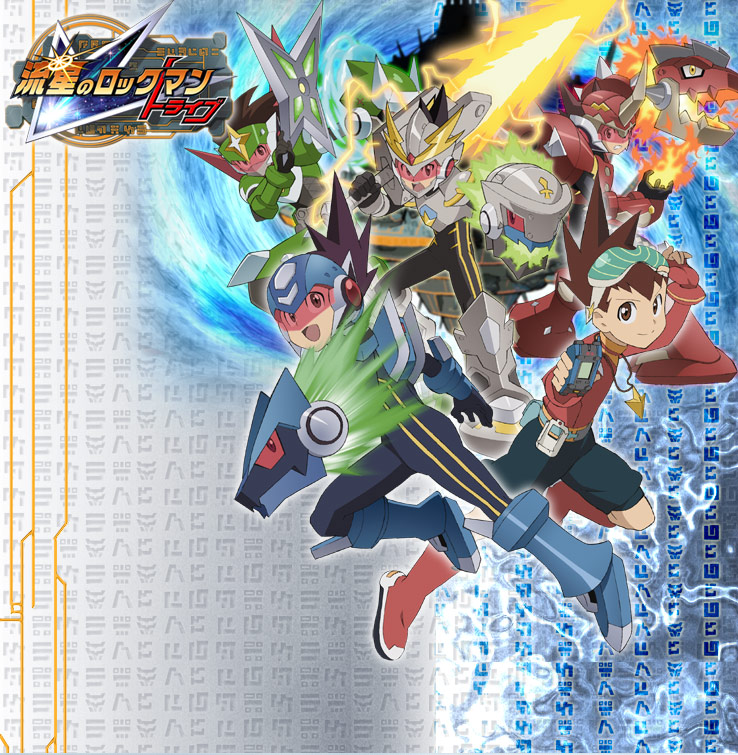 Shooting Star Rockman Tribe (2007-2008)
A sequel immediately following after Mega Man Star Force, Shooting Star Rockman Tribe deals with new entities called Unidentified Mystery Animals (or UMAs). They can merge with humans similarly how FMians did during the first season, though with a different purpose of reviving a much powerful being named Mu. Later on, Geo and Omega-Xis discover the power of Mu's treasures called the OOPArts, and the consequences it can give should it fall under the wrong hands, as this is also the key for his revival. The entire series ran for about half a year, with 21 episodes. Shooting Star Rockman is an adaptation for a video game, and also had a manga counterpart, stretching up six different volumes.
Comments
comments